WITH DECADES OF GARDENING EXPERIENCE…
I have grown countless varieties of plants in the North and I must admit that I have killed my fair share. But then, that is part of the evolution of a gardener in a harsh climate. Don't view plant loss as a totally negative experience as you undoubtedly learned something in trying that specific plant plus it's demise probably afforded you the space to trial something new.
There is a wide variety of great landscape plants available for use in northern regions. This page will feature some of my favorites. Keep checking back as the featured plant will change from time to time. Whether you are a novice or experienced northern gardener, you will be able find something that will add interest to your landscape.
Fothergilla x intermedia 'Blue Shadow' –
USPP 15490 (Witch Alder)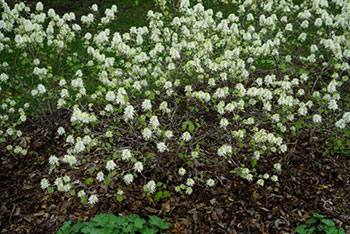 If you look at the native range of this plant genus, you'd surmise that these shrubs could not be successfully grown in the upper midwest. Well, I've seen a number of well grown specimens in south central Minnesota and this selection certainly deserves to be more widely planted.
'Blue Shadow' is one of those great plants that offers interest throughout the growing season. Bottlebrush-like, terminal heads of fragrant white flowers are showy in May prior to emergence of the new foliage.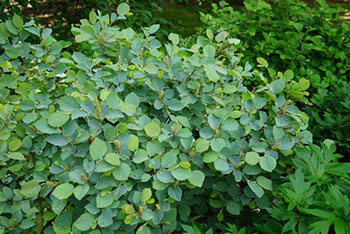 Its powder blue foliage is attractive throughout summer and takes on shades of red, orange and yellow in fall. At maturity, 'Blue Shadow' reaches 4'-6' in height and spread. Plant it in full sun or light shade in a soil that is well-drained. Avoid highly alkaline, dry soils and sites exposed to strong drying winds.