ABOUT MIKE
I have over forty years of horticultural experience in both public and private horticulture. I began my career in 1972 as an assistant gardener at the University of Minnesota Landscape Arboretum. I spent fifteen years at the Arboretum managing plant displays with most of my work concentrated on herbaceous plants.
In 1985, my wife Jean and I opened a niche perennial nursery, Ambergate Gardens. At that time, there was a lack of local sources for unusual perennials and the marketplace was at the beginning of a strong resurgence of interest in this group of plants. We operated the nursery until the end of the 2013 growing season when we retired to focus our energies in other directions.
I now spend my time lecturing, writing and consulting on issues related to gardening in northern regions. It is through these efforts that I will share my extensive plant knowledge with clients and coach them in setting up their landscapes for long-term success. I am available for onsite visits which may be the most valuable tool in choosing the "right plant for the right location".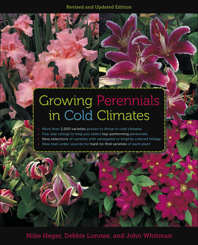 While operating Ambergate Gardens, I wrote "Perennials A to Z", an extensive series of articles originally published in Minnesota Horticulturist and coauthored Growing Perennials in Cold Climates, a book written specifically for the colder regions of this country. I have also written articles for a number of gardening publications and am a regular speaker at horticultural events. I served as Central Region Director of the Perennial Plant Association from 1988-1994 and I remain active in numerous plant societies and trade organizations related to perennial flowers. I have been awarded a Quill & Trowel Communication Award from the Garden Writers Association, the Distinguished Service Award and the Award of Merit from the Minnesota State Horticultural Society as well as the Special Service Award from the Minnesota Nursery and Landscape Association.
I look forward to helping you develop the landscape of your dreams.