BOOKS FOR NORTHERN GARDENERS
I am honored that so many perennial gardeners have enjoyed reading and learning from my book, Growing Perennials in Cold Climates. It is the first book ever of its kind for northern gardeners and is used as both a reference and teaching text.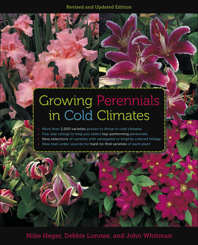 Growing Perennials in Cold Climates
by Mike Heger, Debbie Lonnee & John Whitman
Revised and updated in 2011, this soft cover guide written for northern tier gardeners
from coast to coast features:
• More than 2,000 varieties proven to thrive in cold climates
• Five star ratings to help you choose top performing perennials
• New selections with variegated or brightly colored foliage
• New mail order sources for hard-to-find varieties of each plant
If you are a gardener and winter temperatures in your region can dip below –20 degrees, this is the one guide you need. Comprehensive and fully illustrated, Growing Perennials in Cold Climates is an excellent resource for selecting, siting, planting and maintaining perennials in northern climates. This expanded edition identifies the fifty most popular perennial groups, offers in depth information on wild and cultivated varieties best suited to cold climates and rates more than 500 of the choicest plants. Along with the plant data, this book includes a concise course in perennial gardening from preparing a site and buying potted perennials to composting, watering, mulching, fertilizing, weeding, staking, deadheading, pruning, protecting plants in winter, companion planting and dealing with disease and insect problems. Line drawings and 262 color pictures supplement the written text. Written to make even the most sophisticated aspects of growing perennials easy to understand, this book will be indispensable to novice and advanced gardeners alike. 448 pp.
Of course, there are also many other books that are valuable to northern gardeners and I am happy to point out a few of my favorites.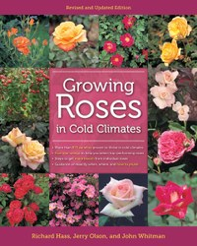 Growing Roses in Cold Climates

by Richard Hass, Jerry Olson & John Whitman
This thoroughly updated edition of the landmark volume Growing Roses in Cold Climates includes:
• Accessible information on 875 varieties of roses best suited to cold climates
• New methods for protecting roses in winter
• Hundreds of new rose introductions, including disease resistant and hardy varieties
• Five star ratings to help you select top performing roses
Along with describing both organic and inorganic solutions to common rose problems, this 2012 revision also profiles twelve major classes of roses, complete with photographs and step-by-step guidelines on achieving ideal growing conditions. 280 pp.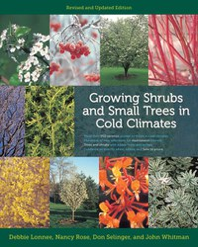 Growing Shrubs and Small Trees in Cold Climates

by Debbie Lonnee, Nancy Rose, Don Selinger & John Whitman
This revised and updated soft cover edition, released in fall of 2011, features:
• More than 950 varieties proven to thrive in cold climates
• Hundreds of new selections for multi season interest
• Trees and shrubs with edible fruits and berries
• Guidance on exactly when, where and how to prune
This easy-to-use guide provides all the information needed to select trees and shrubs ideally suited to northern growing conditions. It also includes a section dealing with the basics of growing shrubs and small trees. A five star rating system will help you choose the best plants and detailed lists of suppliers show you where to locate them. 448 pp.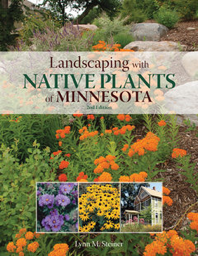 Landscaping with Native Plants of Minnesota
by Lynn M. Steiner
This updated edition of Landscaping with Native Plants of Minnesota combines the practicality of a field guide with the basic information homeowners need to create an effective landscape design. The plant profiles section includes comprehensive descriptions of approximately 150 flowers, trees, shrubs, vines, evergreens, grasses and ferns that grew in Minnesota before European settlement, as well as complete information on planting, maintenance and landscape uses for each plant. The soft cover book also includes complete information on how to garden successfully in Minnesota's harsh climate and how to install and maintain an attractive, minimal maintenance home landscape. A pleasing assortment of color images supplements the written text. 192 pp.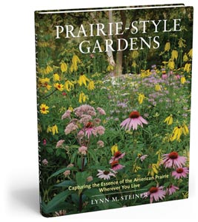 Prairie-Style Gardens
by Lynn M. Steiner
Eminently practical, Prairie-Style Gardens shows you how to use prairie natives in a wide variety of situations, from including a few prairie plants in an existing landscape to creating a full fledged habitat garden. Especially useful is Lynn's advice on how to make prairie plants work in a typical urban or suburban setting, where it may be difficult to deviate from the local norm. A comprehensive plant profiles section helps you choose which plants will look best and thrive in your particular situation. Each plant entry includes detailed information on size, native habitats, site requirements, hardiness, appropriate landscape uses, care, companion plants and available cultivars. This hard cover text has numerous color images throughout. 304 pp.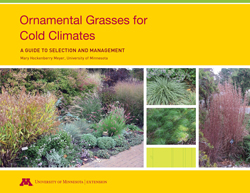 Ornamental Grasses for Cold Climates
by Mary Hockenberry Meyer
Ornamental Grasses for Cold Climates helps northern gardeners select ecologically beneficial grasses for lawn or garden. Revised in 2012, this edition includes a copy of the USDA's updated plant hardiness zone map, more than 100 perennial and 35 annual grass species and more than 100 color photos. This soft cover North Central Regional Extension publication offers general advice on growing and using grasses as well as detailed hardiness information based on research done at the University of Minnesota Landscape Arboretum. 56 pp.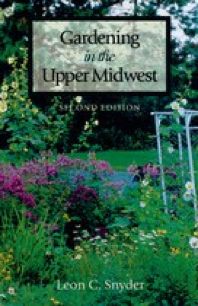 Gardening in the Upper Midwest
by Dr. Leon C. Snyder
Northern gardeners face challenges that authors of most gardening books rarely confront – severe winters, unpredictable rainfall, arduous soils and short growing seasons. Gardening in the Upper Midwest, originally published in 1978 but revised in 2000, offers tips and advice to overcome these obstacles and more. All aspects of gardening in this region are discussed: vegetables and fruits, landscaping, lawn care, trees, shrubs, perennials and annual flowers. Specific descriptions and useful lists of species hardy in northern climates are provided to help gardeners make appropriate plant selections. 310 pp.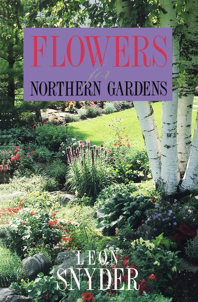 Flowers for Northern Gardens
by Dr. Leon C. Snyder
This comprehensive handbook, published in 1991, lists over 800 species of herbaceous plants and their botanical and horticultural varieties known to be hardy in northern zones. Dr. Snyder tells northern gardeners how to choose flowers that will thrive in their difficult climate and how to adapt their techniques to its sometimes perilous conditions. Whether searching for new gardening ideas or gathering information on the flowers of the north, this guide is brimming with information on the well-known and lesser-known plants that thrive in Northern gardens. 396 pp.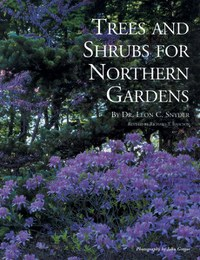 Trees and Shrubs for Northern Gardens
by Dr. Leon C. Snyder (Revised by Richard T. Isaacson)
Dr. Snyder's Trees and Shrubs for Northern Gardens was originally published in 1980 and quickly became the standard reference for trees, shrubs and woody vines that thrive in northern climates. Weekend gardeners and professional horticulturalists have used Snyder's work to design gardens and landscapes in many areas of North America, including the Upper Midwest, Northern New England, the Plains States and much of Canada.
This revised edition (2000) combines the technical information that made the first so valuable to the career horticulturalist with a new, practical approach that makes it essential for northern gardeners. Sections on how to plan a garden are followed by advice on how to best plant and maintain trees and shrubs. The largest section of this new edition is an easy-to-use guide to the many varieties of trees, shrubs and vines that will perform well in the north. Here gardeners will learn the origins of various plants, how they can best be maintained, where and how they will grow, whether they will produce fruit or flowers and how they will respond to changes in weather.
Trees and Shrubs for Northern Gardens features many remarkable illustrations, including both contemporary and historical line drawings. In addition, 100 stunning full color photographs demonstrate the beauty of these plants. 320 pp.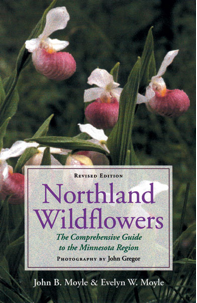 Northland Wildflowers
by John B. Moyle & Evelyn W. Moyle
For more than two decades, the first edition of Northland Wildflowers has been the standard guide to wildflowers of the Upper Midwest and Canada. This substantial revision presents more than 300 species of commonly found wildflowers, all stunningly captured in new full-color images.
Among the most comprehensive and informative books on this subject, this text is also one of the most beautiful. Its six sections are divided by the color of bloom, making it the ideal guide for the gardener, the hiker and the roadside traveler. Each entry is highlighted with a photograph and description of the species and its habitat and a mention of related species. A thorough bibliography, glossary and index make this an essential resource.
Besides information on how to identify wildflower species, Northland Wildflowers recommends the best seasons for viewing each variety and suggests how to plant, grow and preserve wildflowers. Notes on Ojibwa medicinal and culinary uses of flowers, such as wintergreen and milkweed, as well as a look at which plants are immigrants from Europe, such as the sow thistle and the dandelion, will be of interest to all. 228 pp.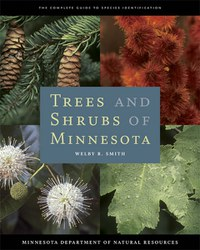 Trees and Shrubs of Minnesota
by Welby R. Smith
With more than 200 tree, shrub and woody vine species in Minnesota, anyone with an interest in the outdoors has likely encountered an unfamiliar plant and wondered about its name, origin, characteristics and habitat. In this identification resource, the state's foremost botanist and endangered species expert Welby R. Smith provides authoritative, accessible and up-to-date information on the state's native and naturalized woody plant species.
This fully illustrated resource features:
• Easy identification: more than 1000 color photographs of fruit, flowers, bark and leaves for every species, as well as more than 100 illustrations by botanical artist Vera Ming Wong
• Distribution maps: more than 500 maps including state and North American range maps
• Interesting background: descriptions of each species' habitat, natural history and ecology
• Comprehensive coverage: includes all native and naturalized trees, shrubs and woody vines in Minnesota
Written for everyone from scientists and environmentalists to teachers and people interested in horticulture and gardening, Trees and Shrubs of Minnesota will engage and educate anyone with a curiosity about the natural world. 744 pp.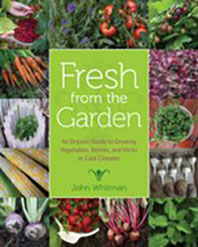 Fresh from the Garden: An Organic Guide to Growing Vegetables, Berries and Herbs in Cold Climates
by John Whitman
This recently released hard cover book in the cold climate series features:
• More than 1,700 varieties of 150 edible vegetables, berries and herbs
• Both heirloom and hybrid selections
• Five star ratings to help you choose the best performing varieties for cold climate regions
• The specifics of cultivation, nutritional values, storage techniques and culinary uses for each of the plants
• An organic approach to raising these food crops
This concise guide will help you extend the growing season to produce the best vegetables, berries and herbs. It provides a wealth of information for determining the best varieties, growing and care of them, harvesting techniques, and uses for your bounty—especially for cold climate gardeners. 264 color photos supplement the written text. 544 pp.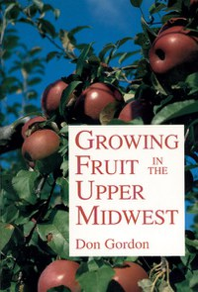 Growing Fruit in the Upper Midwest
by Dr. Don Gordon
Despite the harsh climate that prevails in the Upper Midwest, even amateur gardeners can successfully grow fruit when armed with some basic information. Focusing on Minnesota, Wisconsin, Iowa, South Dakota and North Dakota, Growing Fruit in the Upper Midwest is a practical how-to guide to the cultivation of a wide variety of fruit including apples, pears, plums, apricots, strawberries, blueberries, cherries, grapes, currants, gooseberries and brambles.
To assist readers ranging from home gardeners to small commercial growers, Dr. Gordon covers site selection, soil types, pruning, fertilization, harvesting, pests and preventing winter injury as well as describing literally hundreds of excellent species for this region. Many technical aspects of pruning and planting are accompanied by illustrations. Growing Fruit in the Upper Midwest includes maps that indicate the fruit hardiness zones for each state, augmented by an easy-to-use guide to cultivar selection.
The introduction is a basic botany lesson, covering plant classifications, growth and development. The section on apple growing, by far the most widely adapted fruit species in this region, will help growers decide which types of trees will thrive on their land. Gordon also provides a summary of interesting and overlooked historic and economic aspects of fruit production across the Upper Midwest.
This practical guide is essential reading for home gardeners, small commercial growers and anyone who has considered this rewarding and fascinating hobby. 302 pp.